Hokkaido's Seasonal Flavors.
A Season-by-season Fusion of Techniques.
We travel to locations throughout the island of Hokkaido to find a multitude of fresh,
valued ingredients, meticulously selected using our own eyes and taste buds.
Using these ingredients at the peak of flavor for each season, our Italian chef with a fine understanding of
local produce will bring you a genre-transcending,
unforgettable dish through techniques.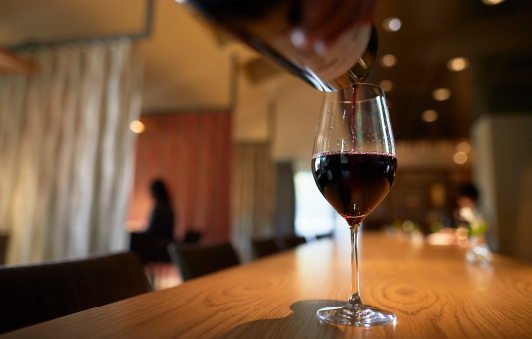 How about a
Perfectly Paired Wine?
Enjoy champagnes and wines, red and white, suggested by our sommelier to complement each course.
In addition, our seasonal line-up includes local Hokkaido wines and sake as well as
long-established wines from around the world.
We also offer a variety of prestige wines.
chef

Akinori Suzuki

Akinori Suzuki honed his skills in restaurants in Sapporo, and then established his own Italian restaurant in Shari, in the Shiretoko peninsula. Later, he opened "Palazzo Adriano" in Sapporo. He creates delicate, dynamic dishes bursting with vitality, that directly express the intrinsic delicious flavors of the ingredients, with the farmers' sentiments kept at the forefront.
Enjoy Dining with a View of the
Garden, the Kitchen, and Smiling Faces.
The restaurant interior, with its lavish use of natural materials,
creates a warmth that envelops the sophisticated ambience.
We offer a range of seating, from the counter, where the kitchen is before your eyes, and the tables,
with a night view overlooking the pond, the trees and the sparkling lamps of Kaze Terrace,
to exclusive dining rooms that provide you with a private space.
The next morning, enjoy a leisurely breakfast amid the refreshing scenery that unfurls before your eyes.
A Custom-made Drink that Puts Your Words Together.
Please spare a few words to tell our bartender how you like your drinks.
We will make a special, personalized beverage for each and every guest.
While enjoying some word-play, you can leisurely experience the chance to encounter a perfect drink and a wonderful night.
A moment of relaxation before or after dinner, with the deep woods of the
primeval forest spreading before your eyes at the counter.