Kurenai Terraced Room

Kurenai

Ai Terraced Room

Ai
23 Guestrooms.
All are "Japanese Suite Rooms",
Complete with a "Forest View Bath".
We have utilized materials abundant with rustic beauty particular to Hokkaido, such as
the resilient Japanese oak and ash woods, and Sapporo soft stone, in a sophisticated, clean design.
The hotel's design was overseen by Hideyuki Hiramoto, who was previously active in Italy and is now Tokyo-based,
and engages in borderless design from architectural design and interiors to product design.
Furthermore, as well as the hotel interior, the exterior and gardens also allow you to
experience a light show created by an international lighting designer.
Design Supervision: H.E.I DESIGN, Mr. Heiichiro Tsukamoto
Interior Design: Hiramoto Design Studio, Mr. Hideyuki Hiramoto
Lighting Design: LIGHTDESIGN INC., Mr. Hiroyasu Shoji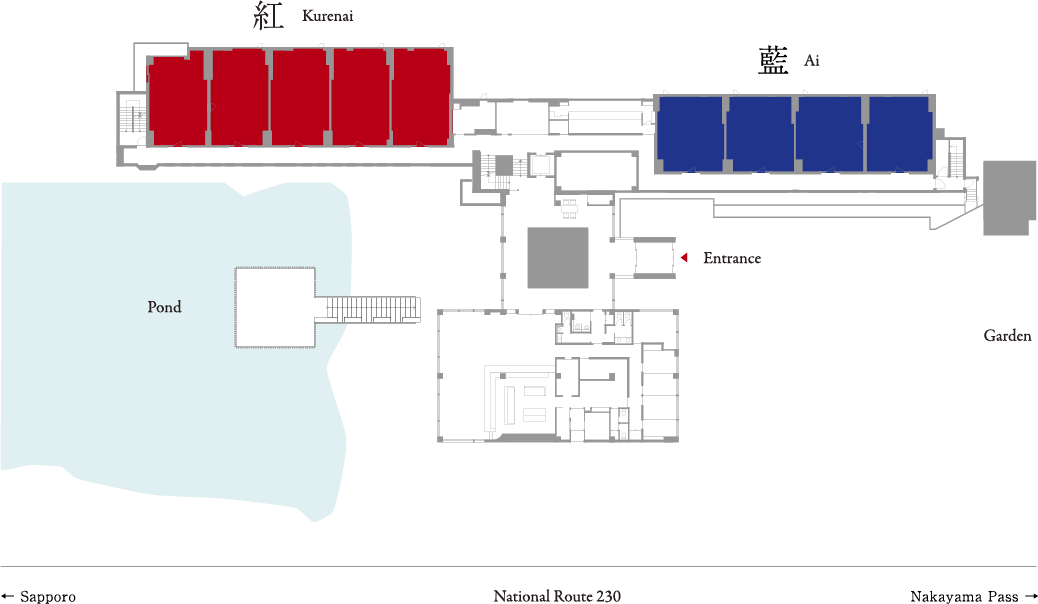 The guestroom wings are Kurenai, with 58m² rooms, and Ai, with 53m² rooms.
Each has a separated living room and bedroom, and is equipped with a View Bath looking onto the forest. Here you can spend a luxurious time
in a tranquil private space of outstanding quality.
In addition, we also offer one Universal Design room, three Balcony rooms, and four Connected Rooms
which combine two bedrooms together. Guests can choose a style of room that suits a wide range of occasions.
The beds are made by the British brand Slumberland,
for you to experience a blissful night's sleep.

Adjust our "as-you-like-it" pillows to your preferred height
and comfort for a perfect night's sleep.

Traditional yukata robes and haori jackets are worn inside the hotel.
We also provide pajamas as sleepwear.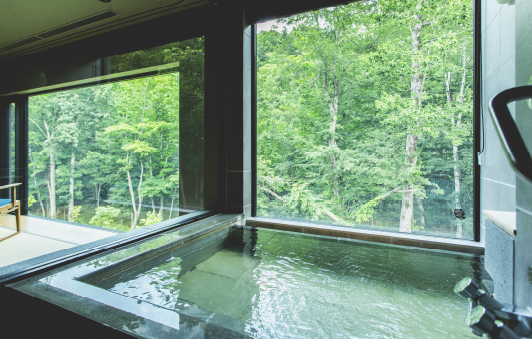 Guestrooms are complete with a "Forest View Bath", which draws its waters from our in-house hot spring,
the 100% pure Usubetsu Onsen.
The water source is a calcium and sodium hydrogen carbonate spring.
This hot spring has long been known for its beatifying effects, with skin-smoothening qualities.
Enjoy a long leisurely bath, while gazing out on once-in-a-lifetime scenery.