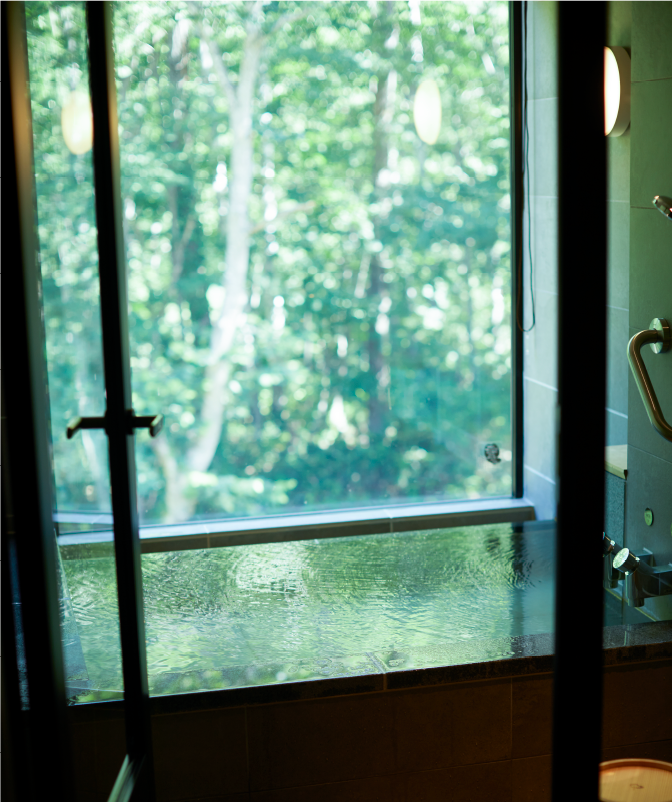 Bathe in a Hydrogen Carbonate Spring,
One of the Three Great Beauty Springs.
The soft spring water here, known as Usubetsu Onsen, is a calcium and sodium hydrogen carbonate spring, different to the
spring water at neighboring Jozankei Onsen. It is treasured as one of the "Three Great Beauty Springs",
along with sulfate springs and sulfur springs.
The waters remove dirt and keratinization from your skin and act like a cleanser, making your skin soft and supple.
Bathers will feel the sensation of smoother skin.
We hope you will relax and enjoy our in-house hot spring – unadulterated,
100% pure flowing spring water – to your heart's content in your guestroom,
with an exclusive view of the primeval forest that expands outside your window.
Special Hot Spring + Luxury Treatment.

Our Exclusive Beauty Program.
"Bi-you-te" is our Saeki-style spa and treatment salon, complete with a natural hot spring.
With the advantages of a hot spring, and entirely by-hand treatments based on the beauty theory of Chizu Saeki,
a well-known skincare expert, your body and mind will be soothed, and you will feel fresh and revived.
We offer you the chance to spend a unique time here, surrounded by the forest,
with a treatment menu that incorporates "sucre", made from Hokkaido-grown sugar beet.